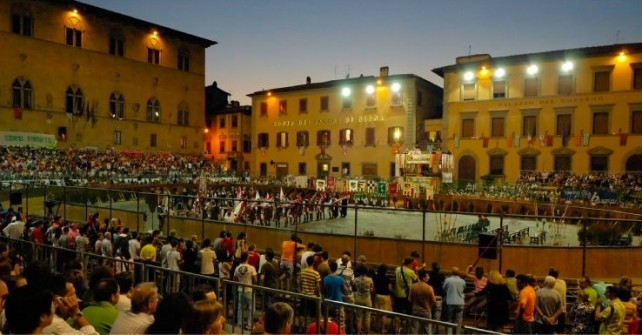 It ' always been the party of all of Pistoia . The day when the city stops . Rests. Plunges back back in the traditions of 1200, years in which there were already of the celebrations to commemorate San Jacopo.La Joust of the Bear in his more modern hero is back from 1947 when a group of students decided to bring to light this manifestation recovering from the deep historical tradition of the " Race of the Berbers " , although the first historical records date back to 1200 with the Palio in honor of St. James , the patron saint of the city.
It went on until 1957, changing a couple of times the path that initially was on the line from the Town Hall to the Court and then in the form of eight. The true and final revival there was in 1975 , transforming the track into a single oval and , over the years , the various committees that have followed have always improved the safety aspects of horses and riders .
The city has historically represented by four doors . After the revival of Carousel in 1947 , came the districts which represent the ancient town division : St. Andrew's door , the actual door to the Village , with regard to the Gryphon ( white and color ) ; Caldatica door , which later became Carratica , the territory of the Dragon ( rossoverde ) ; Lucense door to indicate the area west of the city, later to become leads and Lucchese territory of White Deer ( whites ) ; Guidonis door in reference to the Porta San Marco and the Leon d' Oro ( red and yellow ) .